Artist Getaway in Occidental California is a painting vacation in the coastal redwood forest. Occidental is a small town nestled in Northern California beauty. In Occidental we stay at the Occidental Hotel and paint en plein air, The Russian River, Bodega Bay and the Sonoma Coast are only ten scenic miles away. We will go to a location each day as a group to paint and meet at 5 pm back at the hotel around the pool to for painting sharing and discussion.

In Murphys we go up to the Stanislaus River and Lake Alpine. ​​The Murphys Suites has a meeting room where we can paint together indoors too. There will be scheduled places to caravan to as a group and of course everyone is free to do anything they like during our time on an Artist Getaway. These are trips for all levels of artists, beginner to expert and we learn from experience and from each other in a casual and relaxing setting. There's no formal instruction, just artists having fun painting in the open air together.

Half Moon Bay has the Fitzgerald Marine Reserve and lots of great beaches we are discovering every time we go. It's close to the Bay Area and perfect for a 5 night painting trip. We stay at the Half Moon Bay Lodge on Rt 1 just two miles south of Main Street. ​​
People have visited since October, 2012
​ARTIST GETAWAY, INC.
PO BOX 20214
EL SOBRANTE, CA 94820-0214
​
​​​This site designed by Samantha McNally
​
© copyright Artist Getaway, Inc. All rights reserved.
​​​​Occidental
,
the Sonoma coastal forest
Paint the Russian River, Sonoma Coast, Grove of Old Trees and Ocean Song Garden​
October ​​​16 - 21, 2016
register today

​​Murphys,

the Sierra foothills


Paint the Stanislaus River, Lake Alpine​ and Downtown Murphys
June 4 - 9, 2017

register today

​​



​​Half Moon Bay
May 2017
Registration coming soon​​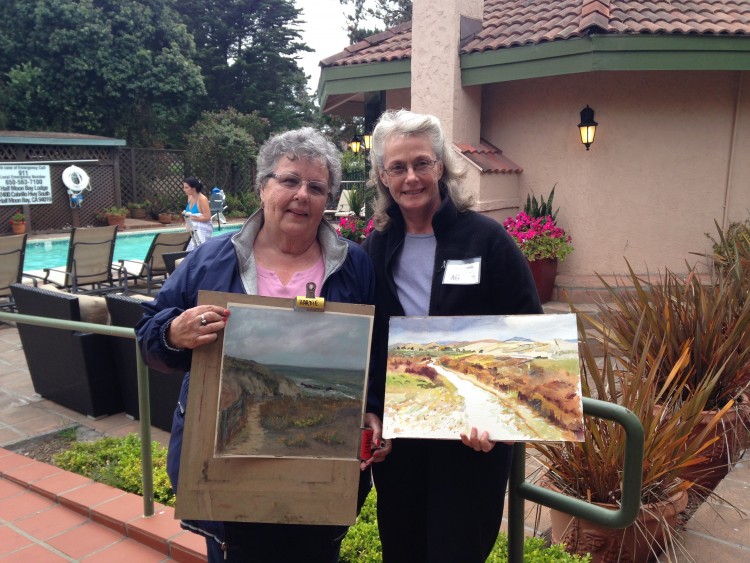 Half Moon Bay 2016 Artist Choice Winners

Janet Hardie on the left with her 2nd place Artist's Choice Award winning pastel and Joanna Jarvis on the right with her 1st place watercolor.
Joanna Jarvis on the right with her prize of a Koi watercolor set from Sakura of America. Janet Hardie on the left with her prize from Gamblin, a $100 gift certificate.